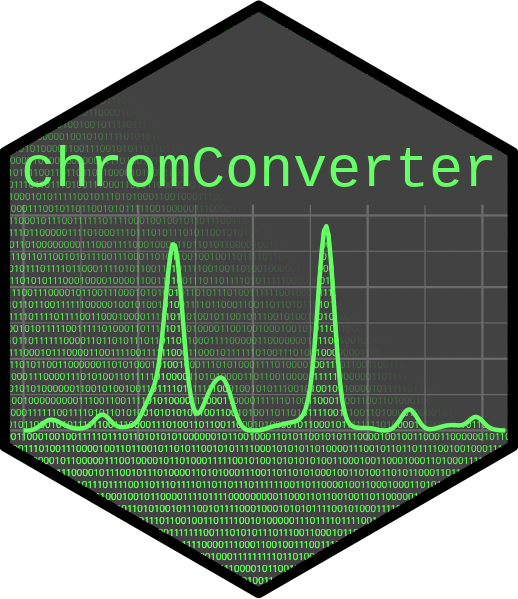 chromConverter
Overview
chromConverter aims to facilitate the conversion of chromatography data from various proprietary formats so it can be easily read into R for further analysis. It currently consists of wrappers around file parsers from various external libraries including Aston, Entab, the ThermoRawFileParser, and OpenChrom as well as some parsers written natively in R for text-based formats.
Formats
External Libraries
Aston/Entab (Entab requires separate installation, see instructions below)
Agilent ChemStation (.ch, .fid, .ms, .mwd, & .uv)
Agilent MassHunter DAD (.sp)
OpenChrom (requires separate installation, see instructions below)
Shimadzu FID (.gcd, .C0#)
PerkinElmer FID (.raw)
Varian FID (.run)
DataApex FID (.PRM)
MassFinder FID/MSD (*.mfg)
ABSciex DAD (.wiff)
and many more (see full list here).
Installation
chromConverter can now be installed directly from CRAN:
install.packages

(

"chromConverter"

)
Alternatively, the development version of chromConverter can be installed from GitHub as follows:
install.packages

(

"devtools"

)




devtools

::

install_github

(

"https://github.com/ethanbass/chromConverter/"

)
Usage
read_chroms function
The workhorse of chromConverter is the read_chroms function, which functions as a wrapper around all of the supported parsers. To convert files, call read_chroms, specifying the paths to a vector of directories or files and the appropriate file format (format_in). The supported formats include chemstation_uv, chemstation_csv, masshunter_dad, shimadzu_fid, shimadzu_dad, chromeleon_uv, thermoraw, mzml, waters_arw, msd, csd, and wsd.
library

(

chromConverter

)




dat

 

<-

 read_chroms

(

path

, format.in 

=

 

"chemstation_uv"

)
The read_chroms function will attempt to determine an appropriate parser to use and whether you've provided a vector of directories or files. However, if you'd like to be more explicit, you can provide input to the parsers and find_files arguments. Setting find_files = FALSE will instruct the function that you are providing a vector of files, while find_files = TRUE implies that you are providing a vector of directories.
Further analysis
For downstream analyses of chromatographic data, you can also check out my package chromatographR. For interactive visualization of chromatograms, you can check out my new package ShinyChromViewer (alpha release).
Citation
You can cite chromConverter as follows:
Bass, E. (2022). chromConverter: chromatographic file converter. http://doi.org/10.5281/zenodo.6792521.
If you use external libraries to convert your files, you should probably cite those as well in published work.
Other related packages
For tidy extraction of mzML data, see RaMS.