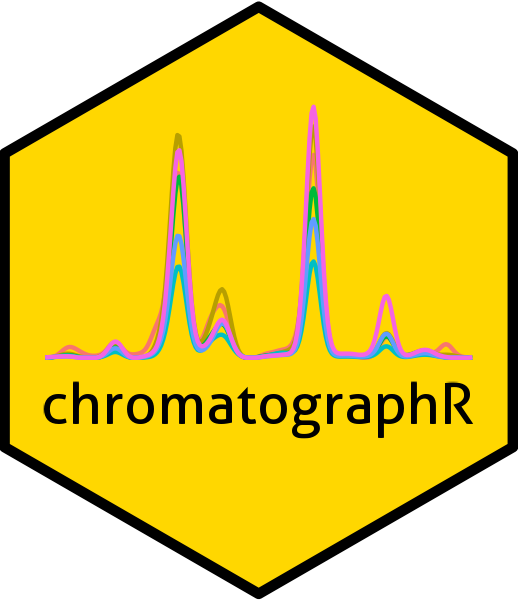 chromatographR: An introduction to HPLC-DAD analysis
Ethan Bass1
2023-09-26
Source:
vignettes/chromatographR.Rmd
chromatographR.Rmd
1 Department of Ecology and Evolutionary Biology, Cornell University, Ithaca NY
Introduction
chromatographR is a package for the reproducible analysis of HPLC-DAD data in R. Liquid chromatography coupled to diode-array detection (HPLC-DAD) remains one of the most popular analytical methodologies due to its convenience and low-cost. However, there are currently very few open-source tools available for analyzing HPLC-DAD chromatograms or other "simple" chromatographic data. The use of proprietary software for the analysis of HPLC-DAD data is currently a significant barrier to reproducible science, since these tools are not widely accessible, and usually require users to select complicated options through a graphical user interface which cannot easily be repeated. Reproducibility is much higher in command line workflows, like chromatographR, where the entire analysis can be stored and easily repeated by anyone using publicly available software.
The chromatographR package began as a fork from the previously published alsace package (Wehrens, Carvalho, and Fraser 2015), but has been reworked with improved functions for peak-finding, integration and peak table generation as well as a number of new tools for data visualization and downstream analysis. Unlike alsace, which emphasized multivariate curve resolution through alternating least squares (MCR-ALS), chromatographR is developed around a more conventional workflow that should seem more familiar to users of standard software tools for HPLC-DAD analysis. chromatographR includes tools for a) pre-processing, b) retention-time alignment, c) peak-finding, d) peak-integration and e) peak-table construction, as well as additional functions useful for analyzing the resulting peak table.
References
Bloemberg, Tom G., Jan Gerretzen, Hans J. P. Wouters, Jolein Gloerich, Maurice van Dael, Hans J. C. T. Wessels, Lambert P. van den Heuvel, Paul H. C. Eilers, Lutgarde M. C. Buydens, and Ron Wehrens. 2010.
"Improved Parametric Time Warping for Proteomics."
Chemometrics and Intelligent Laboratory Systems
,
OMICS
, 104 (1): 65–74.
https://doi.org/10.1016/j.chemolab.2010.04.008
.
Bovee, Roderick. 2022.
"Aston."
Clifford, David, and Glenn Stone. 2012.
"Variable

Penalty Dynamic Time Warping Code

for

Aligning Mass Spectrometry Chromatograms

in

R

."
Journal of Statistical Software
47 (April): 1–17.
https://doi.org/10.18637/jss.v047.i08
.
Clifford, David, Glenn Stone, Ivan Montoliu, Serge Rezzi, François-Pierre Martin, Philippe Guy, Stephen Bruce, and Sunil Kochhar. 2009.
"Alignment

Using Variable Penalty Dynamic Time Warping

."
Analytical Chemistry
81 (3): 1000–1007.
https://doi.org/10.1021/ac802041e
.
Hulstaert, Niels, Jim Shofstahl, Timo Sachsenberg, Mathias Walzer, Harald Barsnes, Lennart Martens, and Yasset Perez-Riverol. 2020.
"

ThermoRawFileParser

:

Modular

,

Scalable

, and

Cross-Platform RAW File Conversion

."
Journal of Proteome Research
19 (1): 537–42.
https://doi.org/10.1021/acs.jproteome.9b00328
.
Lan, Kevin, and James W. Jorgenson. 2001.
"A Hybrid of Exponential and Gaussian Functions as a Simple Model of Asymmetric Chromatographic Peaks."
Journal of Chromatography A
915 (1): 1–13.
https://doi.org/10.1016/S0021-9673(01)00594-5
.
Tomasi, Giorgio, Frans van den Berg, and Claus Andersson. 2004.
"Correlation Optimized Warping and Dynamic Time Warping as Preprocessing Methods for Chromatographic Data."
Journal of Chemometrics
18 (5): 231–41.
https://doi.org/10.1002/cem.859
.
Uesugi, Akane, and André Kessler. 2013.
"Herbivore Exclusion Drives the Evolution of Plant Competitiveness via Increased Allelopathy."
New Phytologist
198 (3): 916–24.
https://doi.org/10.1111/nph.12172
.
Wehrens, Ron, Elisabete Carvalho, and Paul D. Fraser. 2015.
"Metabolite Profiling in

LC-DAD

Using Multivariate Curve Resolution: The Alsace Package for

R

."
Metabolomics
11 (1): 143–54.
https://doi.org/10.1007/s11306-014-0683-5
.
Session Information
> sessionInfo()
R version 4.3.1 (2023-06-16)
Platform: x86_64-pc-linux-gnu (64-bit)
Running under: Ubuntu 22.04.3 LTS

Matrix products: default
BLAS:   /usr/lib/x86_64-linux-gnu/openblas-pthread/libblas.so.3 
LAPACK: /usr/lib/x86_64-linux-gnu/openblas-pthread/libopenblasp-r0.3.20.so;  LAPACK version 3.10.0

locale:
 [1] LC_CTYPE=C.UTF-8       LC_NUMERIC=C           LC_TIME=C.UTF-8       
 [4] LC_COLLATE=C.UTF-8     LC_MONETARY=C.UTF-8    LC_MESSAGES=C.UTF-8   
 [7] LC_PAPER=C.UTF-8       LC_NAME=C              LC_ADDRESS=C          
[10] LC_TELEPHONE=C         LC_MEASUREMENT=C.UTF-8 LC_IDENTIFICATION=C   

time zone: UTC
tzcode source: system (glibc)

attached base packages:
[1] parallel  stats     graphics  grDevices utils     datasets  methods  
[8] base     

other attached packages:
[1] chromatographR_0.6.0 knitr_1.44          

loaded via a namespace (and not attached):
 [1] sass_0.4.7            utf8_1.2.3            generics_0.1.3       
 [4] tidyr_1.3.0           bitops_1.0-7          xml2_1.3.5           
 [7] fastcluster_1.2.3     stringi_1.7.12        lattice_0.21-8       
[10] digest_0.6.33         magrittr_2.0.3        caTools_1.18.2       
[13] chromConverter_0.2.1  evaluate_0.21         grid_4.3.1           
[16] dynamicTreeCut_1.63-1 fastmap_1.1.1         cellranger_1.1.0     
[19] rprojroot_2.0.3       jsonlite_1.8.7        Matrix_1.5-4.1       
[22] Formula_1.2-5         purrr_1.0.2           fansi_1.0.4          
[25] scales_1.2.1          pbapply_1.7-2         textshaping_0.3.6    
[28] jquerylib_0.1.4       cli_3.6.1             rlang_1.1.1          
[31] munsell_0.5.0         ptw_1.9-16            cachem_1.0.8         
[34] yaml_2.3.7            tools_4.3.1           minpack.lm_1.2-4     
[37] memoise_2.0.1         dplyr_1.1.3           colorspace_2.1-0     
[40] pvclust_2.2-0         RcppDE_0.1.7          reticulate_1.32.0    
[43] vctrs_0.6.3           R6_2.5.1              png_0.1-8            
[46] lifecycle_1.0.3       stringr_1.5.0         fs_1.6.3             
[49] ragg_1.2.5            pkgconfig_2.0.3       desc_1.4.2           
[52] pkgdown_2.0.7         bslib_0.5.1           pillar_1.9.0         
[55] VPdtw_2.1-14          glue_1.6.2            Rcpp_1.0.11          
[58] systemfonts_1.0.4     xfun_0.40             tibble_3.2.1         
[61] tidyselect_1.2.0      farver_2.1.1          htmltools_0.5.6      
[64] rmarkdown_2.25        compiler_4.3.1        readxl_1.4.3